Donations handed over to charitable institutions
In mid-June 2023, the management and the works council donated €5,000 each to two charitable institutions. The Lummerland in Ennigerloh and the organization Enniger hilft Kindern e.V.. Both have been supported by Rottendorf Pharma for several years.
Birte Stuckstedte, area manager of Lummerland in Ennigerloh, thankfully took receipt of the donation check. Ms. Stuckstedte's 17-strong team looks after the children and young people 24 hours a day. "We can offer the inhabitants a daily program, which of course would not be possible for the parents in everyday life," explained Ms Stuckstedte. This year's donation from Rottendorf Pharma will be used to provide training in animal-assisted therapy. The children and young people also wanted a projector for movie nights at the facility.
The Enniger hilft Kinder e.V. organization has been supporting children in need at home and abroad for over 30 years. When handing over the donation check, Christian Westkämper (Deputy Chairman of the organization) reported on many projects that are currently being supported. These included everything from aid deliveries to the war zone in Ukraine to regional projects. "We always choose specific projects so that we know exactly where the money lands in the end," emphasized Mr. Westkämper. "We are therefore delighted that Rottendorf is once again supporting us with a donation."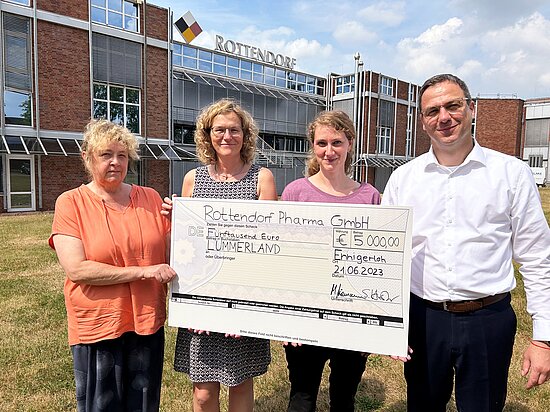 Caption: Heike Schlüter (Works council), Dr. Silke Huster (Managing Director), Birte Stuckstedte (Lummerland), Marco Niemann (Managing Director)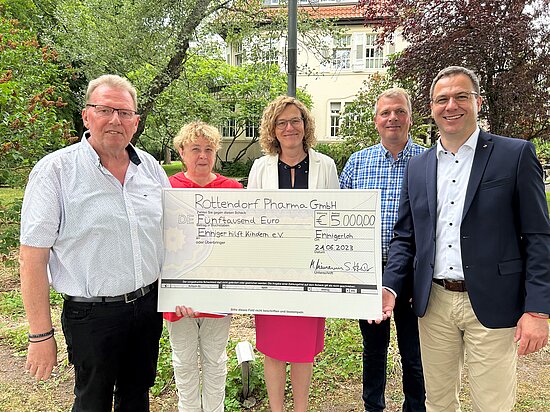 Caption: Christian Westkämper (Enniger hilft Kindern), Heike Schlüter (Works council), Dr. Silke Huster (Managing Director), Dominik Fissahn (Enniger hilft Kindern), Marco Niemann (Managing Director)